Content:
OLCOS presented at the Open Classroom Conference
Stockholm, 24th -26th October 2007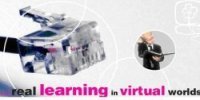 The Sixth Open Classroom Conference aims at offering an opportunity to present, be informed about and join the European dialogue about how families, teachers, experts, authorities and societies at large are experiencing and handling the changes that are leading towards Real Learning in Virtual Worlds.

Around 150 representatives from 23 countries participated in the three days programme. In session E "Understanding the Evolution: the System" Harald Gapski (ecmc), as a member of the OLCOS consortium, presented outcomes and services of the OLCOS project. Delegates of the conference received a printed copy of the printed OLCOS Roadmap report.

Jan Hylén (former analyst at OECD, now consultant at Metamatrix) and one of the invited experts in an earlier OLCOS expert meeting gave a keynote entitled "Giving Knowledge for Free - the Emergence of Open Educational Resources" which can be viewed online.
Download:
OLCOS presentation (PDF)
Links:
Open Classroom Conference - The programme
http://www.eden-online.org/eden.php?menuId=370
Keynotes online (video):
http://www.cfl.se/default.asp?sid=2631
Keynotes presentations (ppt)
http://www.eden-online.org/eden.php?menuId=363