Content:
Third OLCOS Expert Meeting and International Seminar of the UOC UNESCO Chair in eLearning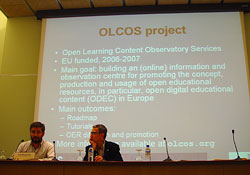 The OLCOS project co-operated with the Universitat Oberta de Catalunya (UOC) UNESCO Chair in E-learning in organizing the Third International Seminar about Open Educational Resources and specifically on institutional challenges. This seminar was held from 22nd to 24th of November in Barcelona.
In the context of this International Seminar, the OLCOS project team organised its Third Expert Meeting on 24th November and welcomed the following experts for a discussion of results of the OLCOS Roadmap 2012:
PETER BURNHILL, Director of the EDINA National Data Centre, JORUM Project (UK)
C. SIDNEY BURRUS, Senior Strategist at Connexions, Rice University (USA)
NIALL SCLATER, Director of the OU UK Virtual Learning Environment Project (UK)
LLORENÇ VALVERDE, Vice-Rector of Technology, UOC (ES)

DAVID WILEY, Utah State University, Center for Open Sustainable Learning (USA)
The discussion of the OLCOS Roadmap 2012 addressed findings in 3 main areas:

Educational Policies
Business Models and Institutional Frameworks
Laboratories of open educational practices and resources.
The expert discussion concentrated on drivers & enablers and inhibitors for open educational practices and resouces that have been identified in OLCOS' road mapping activity. The third expert meeting forms part of the final round of expert consultation on the OLCOS Roadmap 2012. The results of this consultation will be taken into account in the roadmap report which will become available in January 2007.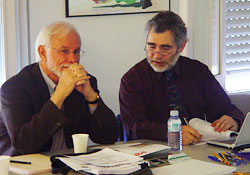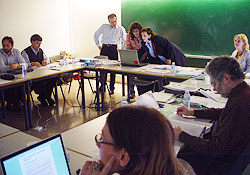 Download:


Further links:
Universitat Oberta de Catalunya (UOC) UNESCO Chair in E-learning
http://www.uoc.edu/catedra/unesco/esp/index.html
Third International Seminar on "Open Educational Resources: Institutional Challenges" (Barcelona, 22-24 November 2006)
http://www.uoc.edu/catedra/unesco/seminario/english/